Emergency Response Kit
Kelso's Emergency Response Kit (ERK) was designed for first responders and hazmat teams to utilize in the event of an accident involving rail tank cars.  With input and recommendations from Class I railroads, chemical companies and emergency responders, our ERK was created to address performance, safety and deployment issues unresolved with current models of kits.
Specialty features:
high-strength aluminum bridges

750psi containment cans 

Teflon-coated interiors of cans 

non-slip exterior on color-coded cans

unique serial numbers for tracking each can

pressure gauges to 100/300/600psi

performance-tested on a rolled tank car
For more information on the Kelso ERK, please contact Sales at 903-583-9200 or email sales@kelsotech.com
Order Form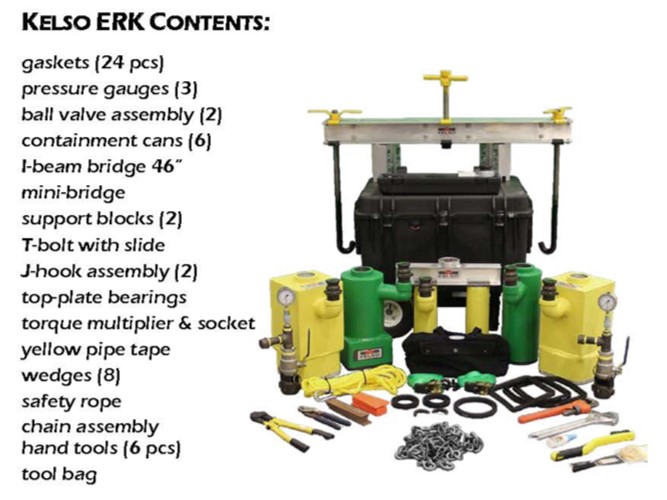 The Kelso ERK for hazmat & first responders is:
rapidly deployed with hand tools included inside the kit
designed & tested for rail tank car rollovers
used for both pressure and non-pressure tank cars
qualified for FEMA funding (Assistance to Firefighters Grants)
reviewed by American Gas Association
A Kelso sales representative will contact you with pricing details and to confirm your order. If you have any further questions, please call us at 903-583-9200.